TUBES produces and distributes wines, (non-alcoholic) cocktails and spirits by the glass. A sustainable single-serve solution that has become very popular in Travel and Tourism. The space- (127% more tubes in drawer versus traditional), weight- (40% less weight versus traditional), time- and cost-saving benefits of our tubes, make them extremely suitable for the travel industry. Something that was acknowledged by branche experts.
At the WTCE 2019, TUBES was rewarded with an Onboard Hospitality Award in the category 'Best Onboard Beverage'. The jury said: "An innovative product in an innovative format. Premixed cocktails help reduce handling for crew and the concept can be easily personalized for different airlines and could suit both retail or complimentary service".
Advantages
Winner Best Onboard Beverage Award 2019
Space-saving (127% more tubes in drawer versus traditional)
Weight-saving (40% less weight versus traditional)
Time-saving (single serve and no waste)
Costs-saving (less space and weight per product is reduction in distribution costs)
100% customizable in content and branding
Recyclable and reusable
Unbreakable (RPET)
Quality and production according IFS standards
Reduction of excessive alcohol consumption
Saving space, costs, and weight
Our travel collection
Our cocktails and wines in 100 ml RPET are quickly becoming more and more popular in the travel and retail industry. Constantly on a quest for innovation and the best products from all over the world, TUBES has added two brand new items to their collection; single-serve Port in TUBES and Bols Cocktails in TUBES.
Wines around the world
Wine by the glass in an elegant, single serve, innovative package. TUBES presents a tasty selection of red, white and rosé wines from different countries. Ranging from light and fresh, juicy and fruity, to spicy and smooth and everything in between. To enjoy alongside a meal or snack, or simply by themselves. With TUBES, passengers can taste, appreciate and enjoy wines by the glass. Our tubes are 100% customizable in content and branding. In addition to our own selection of wines, we are able to source and deliver wine on demand, in any price range.
Single-serve port
TUBES is very proud to present a completely new experience in onboard food service. A single serve 50 ml Port wine. Because Port is a fortified wine and contains more alcohol than regular wine, it's the perfect beverage for a 'by the glass' concept! In fact, 50 ml is the official serving size for Port. The tube contains educational and inspiring information about the content. This product is suitable for Business Class, Buy on Board or to serve as a special 'in between' aperitif. It gives passengers the chance to taste, appreciate and enjoy Port wine, in an unpretentious and fun way.
Bols ready-made cocktails
TUBES teams up with Lucas Bols. For over 440 years (since 1575), Bols has been mastering the art of mixing, distilling and blending. The expertise and craftsmanship has made them what they are today: world's oldest distilled spirit brand and a globally well-known master of cocktails. Our combined strengths resulted in a premium range of single serve, ready to drink, perfectly mixed cocktails and mocktails in the ideal volume of 100 ml. With Cocktails in TUBES, passengers can enjoy pre-mixed classics such as the Negroni, Bramble, Singapore Sling, Old Fashioned and Bloody Mary or discover a non-alcoholic Virgin Clover Club. Visit www.lucasbols.nl for more information about their products.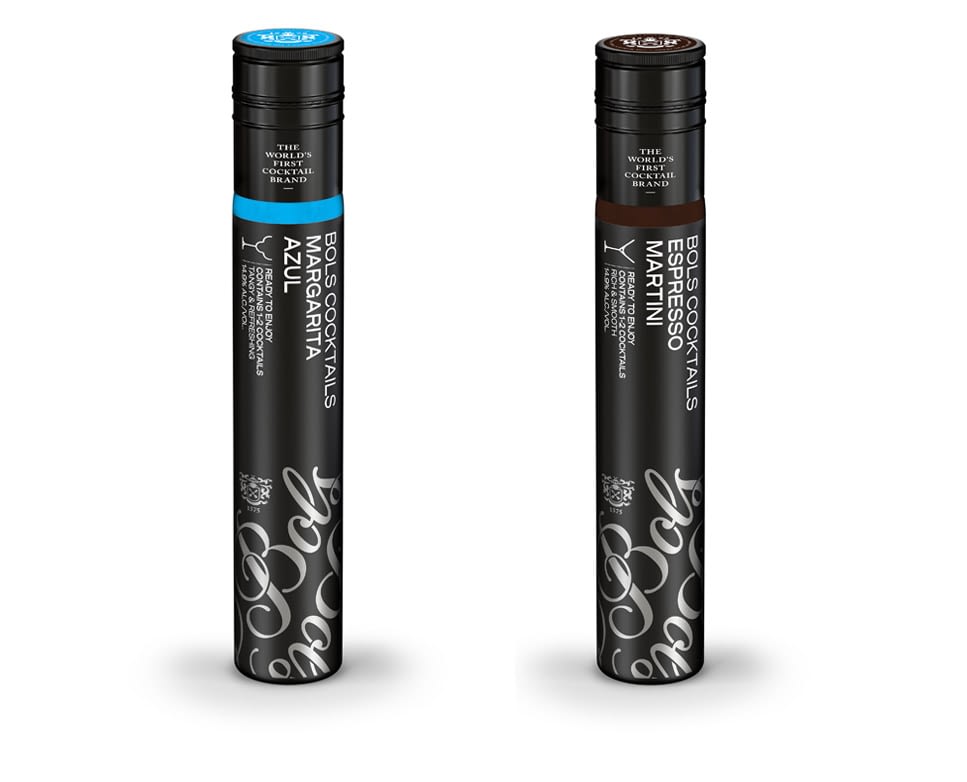 Wineflights
Try, review and enjoy wines by the glass in a fun and educational way with our Wineflight box. Discover France, experience Italy, enjoy Spain and fall in love with Argentina. Join us on our journey through the best wine regions in the world and learn about the wines, wineries and regions. This box contains 4 tubes of 50 ml/2 tubes of 100 ml. The winetasting box is designed to fi t in a standard ATLAS drawer. The concept can easily offer a unique enjoyable winetasting experience without much handling. Perfect for a Buy on Board service to enjoy a 'momento apero dinatoire'.
Aperitivo box
The Aperitivo box is a food pairing concept in a slim cardboard box with a luxurious design. The box
contains a 100 ml RPET wine tube, Manchego cheese (20 gr), Iberico Cheese (20 gr) and green olives (30 gr). Also available as a Happy Hour box with wine and Smoked Chili & Lime Almonds. This box is designed to fit in an standard ATLAS drawer. The ready-made concept presented in a luxury box, gives customers the chance to taste, appreciate and enjoy wine and tapas together. Suitable for Business Class, Buy on Board or as a special in-between aperitif moment.
Please feel free to get in touch if you would like to receive more information about our Travel propositions. We'd be happy to introduce you to the world of TUBES!
Glen Ritzen  | Managing Director – Sales Manager Travel 
T: +31 (0) 35 303 4994
Please notice, we do not deliver empty tubes, our MOQ for bottling is 500 tubes per SKU.